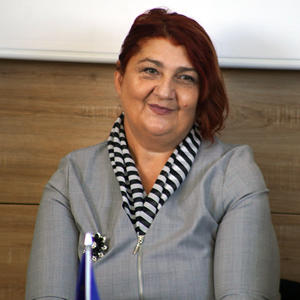 Dr. Djokic is a PhD in the Academic Director and Professor of Environmental and Agriculture Department at IBC-M. Her scientific research was mainly dedicated to the environmental risk management regarding the chemical hazards, waste management and modelling and simulation of the potential pollution in the case of climate change. Participated in four Tempus projects as representative in the consortia, three Erasmus+ projects and several mobility programmes. Published more than 30 articles in international scientific journals and participated in numerous conferences as an invited speaker.
Dr Djokic is an expert in the area of environmental management and has a vast experience in drafting Environmental Impact assessment for urban, industrial, infrastructural and other projects. Her approach to planning and producing various environmental services is based on her extensive knowledge of the subject. She has participated in the design and implementation of numerous training modules, educating/training the parties involved. As an expert, she supported the Regional Agency for Development in the projects which included environmental impact assessment and sustainable development. Dr. Djokic has published numerous publications on the environmental issues troubling her hometown, notorious for the poor environmental situation. She has worked as a national consultant to many international agencies present in Kosovo, such as UNDP, UN-Habitat, EU Office in Kosovo, GIZ etc.
Being involved in an educational sector for over 20 years, she has developed strong skills in team management, team building, development of educational strategies, college governance, project management and infrastructure development. Her focus of attention in recent years was in educational governance, organizational development, and strategic planning. She is a licensed Waste Management expert and is well acquainted with the most recent technology advancements and practices in this area. Dr Djokic is/was involved in numerous environmental projects concerning sustainability and Waste management, the most recent one being the implementation of the project for a landfill in Northern Kosovo funded by the EU, where she contributed with her expertise on the subject as the Environmental expert, delivering EIA according to the EU Directives, and the National Development Plan.
Jelena acts as a core teaching staff member and managing the overall activities of the ENACT Module.